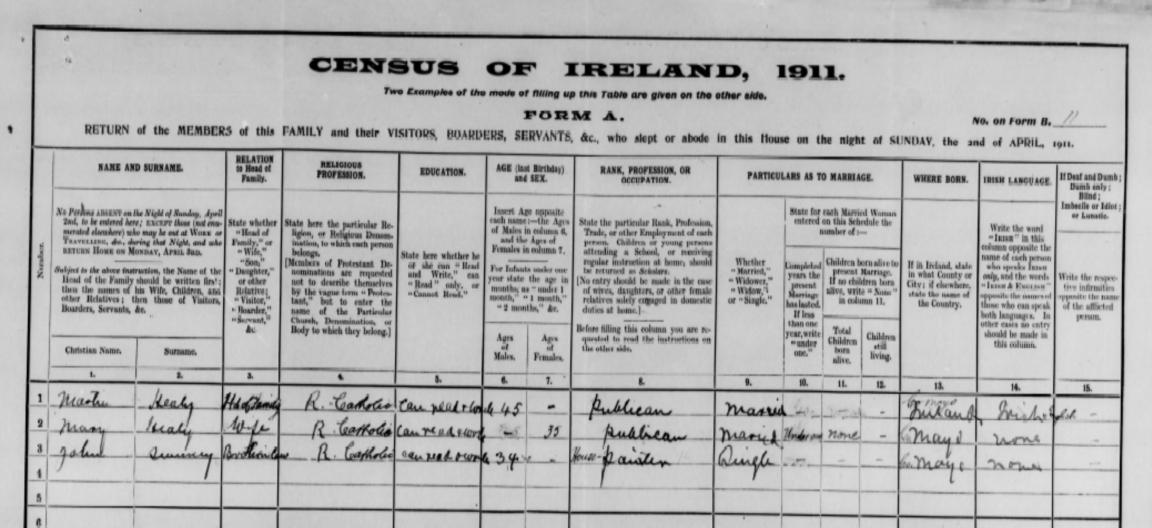 When researching your Irish ancestors online, be aware that transcription errors may occur when old handwritten paper records are transcribed or transferred to electronic databases. Prior to the Irish National Archives launching its searchable online 1911 Irish Census database last year, I already had my grandfather Martin Healy's 1911 Irish Census record listing him, his wife Mary, and Mary's brother John Sweeney, living at the same residence on King Street in Ballina, County Mayo. When the online 1911 census database opened for business, I decided to test it by entering "Martin Healy, male, County Mayo" to view the results. I was surprised when my grandfather did not appear anywhere in the resulting list of Martin Healys in County Mayo in 1911. After some repeated tries with no success, I decided to try John Sweeney, knowing that John appeared on the same record at the same address as my grandparents. Lo and behold, there they all were, Martin, Mary, and John, King Street, Ballina, County Mayo. It turned out that the National Archives records specialist, entering the handwritten record information into the electronic database, mistook the script "H" in "Healy" for a "K". Thus, Martin and Mary Healy are listed as Martin and Mary Kealy in the database. I submitted a correction to the Archives for their attention.
Lesson Learned: Transcription errors are frustrating for the Irish ancestor researcher. They can throw you completely off track. If, at first, you don't find your ancestor in an electronic database, you may have to try other spellings of a surname with completely different letters to find the correct electronic record. You may need to guess what errors the records specialist may make when entering the data in the database.
See more Irish family history articles and lessons learned in earlier posts below and in the archives.